Samsung Galaxy Tab is out. If you have not tried it, it may be wise to visit some good website reviewers. The Tab is more expensive than the iPad. Some stores in the Netherlands already putting a price tag of €749. Before you get one, here's some reviews :
Engadget Reviews :
Nice screen although not amoled
Liked the smaller size for a tablet
Responsive capacitive screen, catching up the iPad
Solid Browser
Not a great camera but still takes decent shots
No HD recording, but smooth motion capture
Battery life : quite good, but not as long as iPad
Does not charge when pluggen into a laptop, but just maintaining it's charge
source :
Engadget
Gizmodo Review :
Gizmodo may not be in favour of the Galaxy Tab. They didn't like the smaller screen and feels like a big smartphone
Likes
Dense and sturdy feel
good battery life
Don't likes
Tablet drunkenly hooked up with a phone
Miserable browser, goes laggy.
Won't charge when plug to a laptop
No decent cameras
Source :
Gizmodo

GSMArena Review
Main disadvantages
* Poor viewing angles
* Picture ghosting due to slow LCD response
* Some apps incompatible with the new resolution
* Gallery displays downsized images only
* Quiet loudspeaker
* No FM radio
* No USB host support
Samsung Galaxy P1000 Tab over Apple iPad
* Lighter and smaller, easier on the pocket
* Telephony (including 3G video calls)
* 3.2 MP camera with D1 video recording @ 30 fps and LED flash
* Android OS v2.2 Froyo
* Proper multitasking (though the iPad is getting that too in a couple of months)
* microSD card slot for memory expansion
* Uses regular size SIM card
* 16:9 widescreen display
* Adobe Flash player 10.1
* DivX/XviD 1080p video playback
* Bluetooth 3.0
Apple iPad over Samsung P1000 Galaxy Tab
* Larger and better screen
* Metal body
* iOS 3.1.3 with more than 25 000 apps tailor-made for it
* Larger internal storage (iPad 64GB)
* Better battery life
* YouTube app streams higher-quality footage
Conclusion
Samsung Galaxy Tab does it's tasks well
Tab is better designed than the Apple iPad
Pretty expensive, If you are willing to get it, wait a couple of months for it's price to drop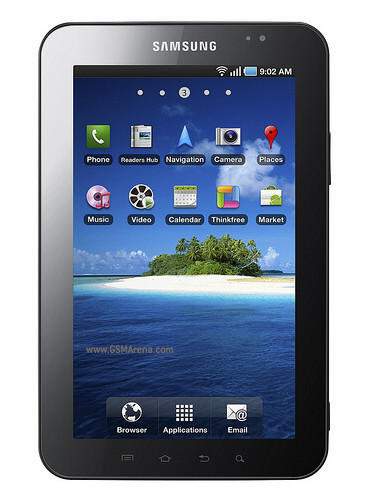 Source :
GSMArena
Different Opinions right..? The best way for you is to try it after all. But I think it's wise to wait a little more for settlement, applications, and the release of Blackberry Playbook (unless you're not a Blackberry fan).